Contests and Giveaways!
Do you love reading romance? Enjoy winning free stuff? Then you are on the right page because this is where I'll post contests and giveaways.  And if you want to learn about other contest I'm running, including winning a print ARC of my January 30, 2018 debut release, NEVER DARE A WICKED EARL, then

October Giveaway #2
Start:
Oct 22, 2017 6:25 PM PDT 
End:
Nov 6, 2017 11:59 PM PST
CLICK HERE HERE TO ENTER!
---

October Giveaway #1 Closed
To celebrate cooler fall nights where you can cozy up with a romantic read, I'm giving away a chance to win a Kindle copy of Vanessa Kelly's Three Weeks with a Princess.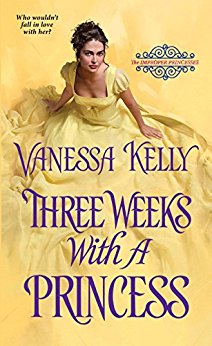 Giveaway runs from
Oct 1, 2017 7:50 PM PDT to 
Oct 16, 2017 11:59 PM PDT
Click

HERE 

to enter. And good luck!
---