Never Dare a Wicked Earl
Romance Writers of America Golden Heart Finalist©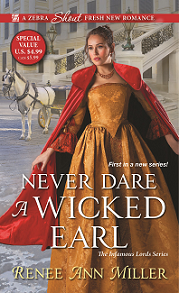 A man haunted by his past, a woman searching for her future, and the dare that puts them at odds will ignite sparks.
Known as a brazen philanderer, Hayden Milton, Earl of Westfield, is almost done in by a vengeful mistress who aims a gun at a rather essential part of his anatomy—but ends up wounding his thigh instead. Recuperating in his London townhouse, Hayden is confronted by his new medical attendant. Sophia Camden intrigues him, for behind her starched uniform is an enticing beauty better suited for bedding than dispensing salves and changing bandages.
Unshaken by his arrogance, not to mention impropriety, Sophia offers Hayden a dare: allow her ten days to prove her competency. If she resigns in exasperation like her two predecessors, she will be beholden to this wicked seducer. As a battle of wills begins, Sophia finds herself distracted by the earl's muscular physique . . . and discovers that the man within longs only for a second chance to love.
See the book trailer below.
---
Never Deceive a Viscount
Available May 29, 2018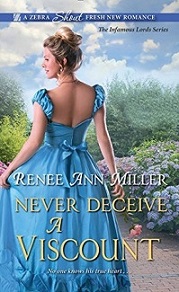 1 
A game of cat and mouse . . . He seeks the truth, but she fears what will happen if he uncovers it.
Clearly, Emma Trafford's new neighbor is a lady killer—but is the scoundrel with the scar capable of murder? Emma can barely contain her precocious younger sister, Lily—the child swears she spied their neighbor engaged in foul play in his Bloomsbury love nest. But when Lily goes too far searching for "evidence," Emma must save the imp by distracting Simon—with an all-consuming kiss rife with danger and desire . . .
Simon Marlton, Viscount Adler doesn't know which is more infuriating: that an anonymous intruder set his soul on fire and left a deep longing in her wake . . . or that during their encounter his signet ring, a token of his painful past, went missing. With the memory of a faint scent of paint spirits and the knowledge that his neighbor Emma is a portraitist, Simon sets out to capture his thief. He draws Emma into a flirtatious game, commissioning the talented lass to paint him—and enticing them both to reveal their whispered suspicions and deepest secrets.
Book Trailer for Never Dare a Wicked Earl